Click Link to Print – Land Code Press Release June 2019
Click Link to Print – Land Code Community Input Meetings Notice – all locations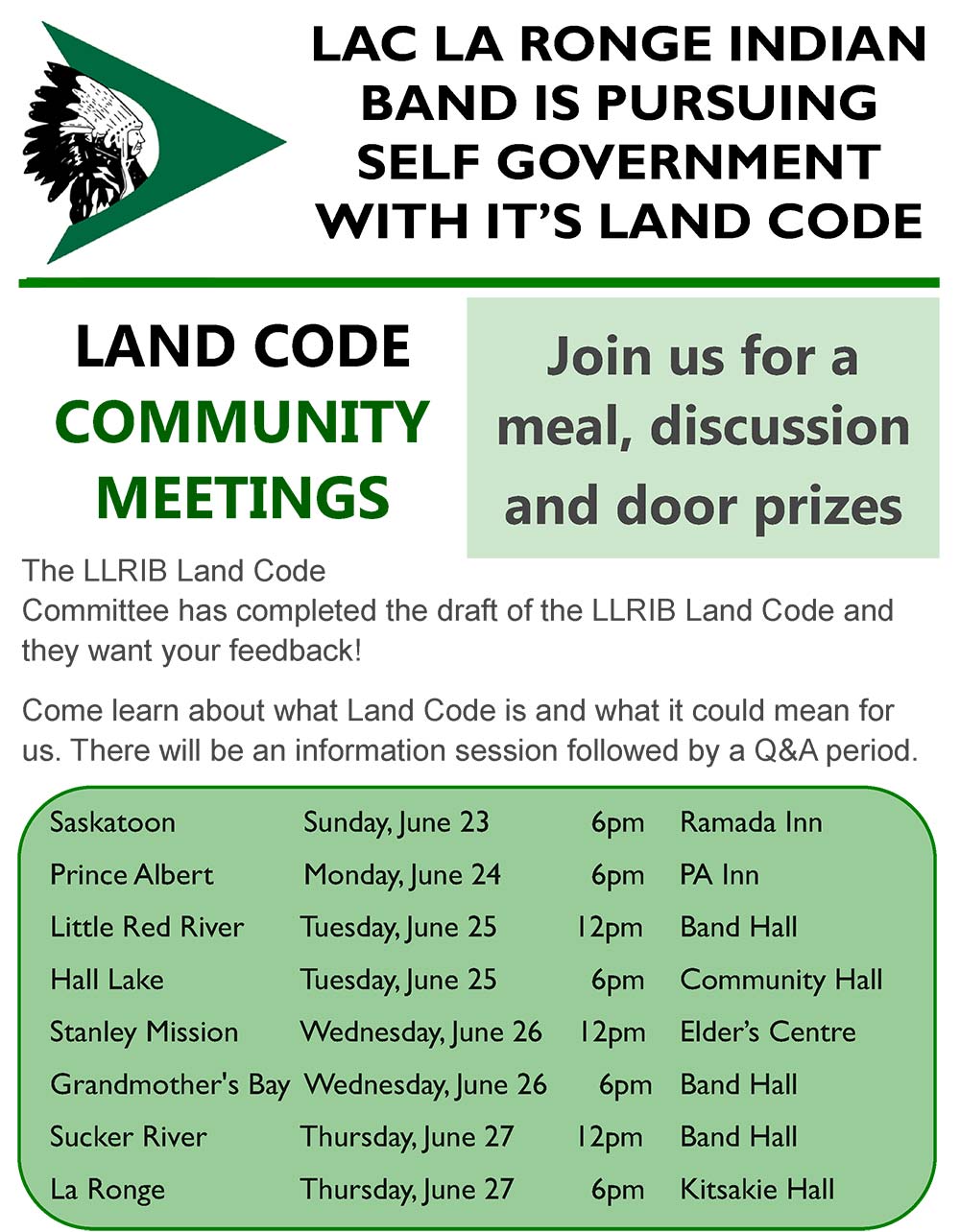 ---
Lac La Ronge Indian Band Land Code Press Release
The Lac La Ronge Indian Band is developing its Land Code. A Land Code is the fundamental land law that sets out how reserve lands and resources are governed, controlled and managed. It is written by the Lac La Ronge Indian Band and replaces the 32 land management sections of the Indian Act. The final Land Code requires approval from the members of LLRIB. Adopting a Land Code is a huge step forward on the path to self-governance. LLRIBs Land Code will be unique to LLRIB and will fit our specific circumstances and needs.
The Land code will not affect the LLRIB Treaty Process or Aboriginal rights, additions to reserves and does not affect taxation. Certificates of possession and any 3rd party interests currently in place will continue forward after land code is ratified by the adult members of LLRIB.
The benefits of a land code to the Lac La Ronge Indian Band are more than just symbolic. If ratified by the members, a land code becomes the fundamental land law of LLRIB. It will allow the us to make timely business and administrative decisions without having to go to the Minister of Aboriginal Affairs for approval. The Land code will allow us to develop laws for proper and sound management and protection of environment and cultural resources. It will protect us against any future arbitrary expropriation of reserve lands.
Other benefits are:
• LLRIB is recognized as the Government and real decision maker over their lands and resources;
• Inclusion of both off-reserve and on-reserve members in important decisions;
• Increased accountability to members of the First Nation;
• More efficient management of First Nation land;
• Recognition of First Nation's legal capacity to acquire and hold property, to borrow, to contract, to expend and invest money, to be a party to legal proceedings, to exercise its powers and to perform its duties;
• Transfer by Canada of previous land revenues to First Nation;
• Recognition of the right to receive revenue from interests in First Nation land;
• Protection against loss of First Nation land through surrender for sale;
• Recognition of right to create modern offences for breach of First Nation laws;
• Ability to create a local dispute resolution processes;
• Establishment of a legal registry system;
• Establishment of an LLRIB-run Lands Committee to provide technical assistance in Lands Management.
LLRIB is ready for its own full decision making. Council and staff's experience mean they are up to the task.
Any Questions? – https://www.llriblandcode.com/contact-us