11:00 AM – Start at LLRIB Band Office to Kikinahk Friendship Centre at 12:00 PM to have Chili and Bannock.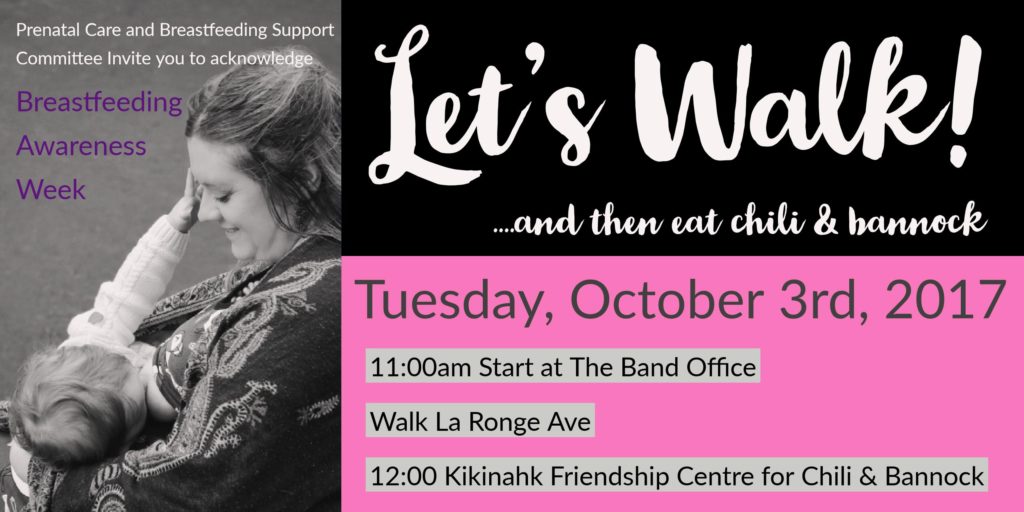 The Breastfeeding Awareness walk
October 3, 2017 here in LaRonge.
Your participation is appreciated, if you can make it, or if you know of clients, moms, dads, or anyone who supports breastfeeding please inform them of the walk. If rides are needed please let me know.
Thank you and have a good week. 
Esther Keighley RN, BSN
Community Health Nurse
Lac La Ronge Indian Band Health Services
Jeannie Bird Clinic
334 Wison Charles St. (Fairchild Reserve)
P.O. Box 1770
La Ronge, SK
S0J 1L0
Main Phone: 1-306-425-3600 ext: 1738
Toll Free Number: 1-877-425-3443
Fax: 1-306-425-5520
Email: ekeighley@llribhs.ca